Cruising / Gear
Drawing on experience in both mechanical and textile product design the new XTX Soft Grip Clutch uses a combination of new materials to offer mid load rope holding in a lightweight, compact device.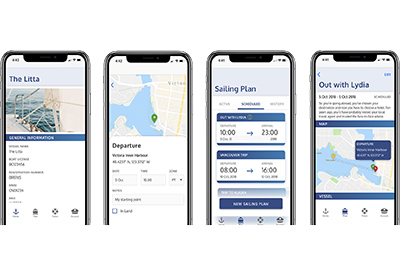 The Sailing Plan is a Canadian small vessel safety app that is a fast and easy-to-use tool for creating, filing and sharing sailing plans before heading out on the water.
As boat builders clamber to create ever-bigger platforms for ever-more generous budgets, the entry-level cruiser has become an elusive animal. Sure, if you want to daysail, there are plenty of small open boats from which to choose, but if you want a freshly built pocket cruiser, you're in for a long search.
Read more: Sneak Peek: Beneteau Oceanis 30.1 Little Big Yacht
Remember your best race? Everything clicked, you were in a different gear, pointing higher off the start and faster than your competition. The following day you tried to repeat it all, and you just couldn't find the same pace.
Read more: Indie Marine Imports Cyclops Marine's Real-Time...

The European portion of SailGP Season 4 got underway this weekend in Saint-Tropez, France. Having hit record breaking speeds last year on the Côte d'Azur, Phil Robertson and the Canadians were looking forward to this weekend of racing, but things did not turn out as hoped. A penalty in the pre-start of race one was a precursor of what was to come, and it proved difficult for the team to recover.
A collision with Spain early on in race one set the team back and translated into eight penalty points for the event and an additional four penalty points for the season.
From sailing 8-Metres in Port Credit to sailing adventures hither and yon, our pal and occasional foredeck, D Danger Mitchele, is never one to be overheated even now that he's residing in sunny Spain. He's also not the kind of guy who would put a dodger on a racing boat. So, here's the logical solution.